Aamir Jariwala, Head - Corporate Strategy & Investor Relations, SPML Infra Limited
---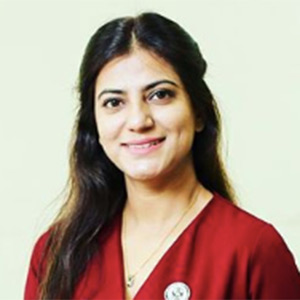 Aanchal Saini, CEO, Flyrobe
---

Aarthi Sivanandh, Partner, J. Sagar Associates
Aarthi focusses her practice on the full spectrum of corporate transactional and other matters, including M&A, de-mergers & spin-offs, foreign collaborations - Joint Ventures, strategic alliances & licensing transactions, restructurings, Private Equity and Venture Capital transactions.

She has represented buyers & sellers in acquisitions and divestures; has handled, negotiated & contested situations - including stock sales & purchases, Joint Ventures, advance preparation for prospective targets, asset sales & purchases, recapitalizations, strategic mergers and acquisition through tender offers.

Aarthi has had substantial transactional involvement in numerous industries, including Energy, Financial Institutions, Service industries, Microfinance, Health Care, Information Technology, Knowledge Based industries, Media & Telecommunications, Industrial Products and Retail.

Aarthi started her practice in the US in 2001 as a foreign legal consultant concentrating on the US-India business corridor. In 2004, she moved to India to work for a law firm dealing in a variety of Corporate Commercial work related to the Technology sector. In 2010 she co-founded Vichar Partners in Chennai that merged its law practice with J. Sagar Associates in April 2014.
---

Aashish Bhinde, Executive Director, Avendus
With Avendus' significant focus on cross border transactions, Aashish has been instrumental in driving the firm's growth strategy across industries in Europe. He has more than fifteen years of experience in Private Placements and Operations.

Prior to joining Avendus, Aashish headed the India office of VIEW Group, a Boston headquartered Private Equity fund, and worked at Colgate Palmolive. He holds an MBA from the Indian Institute of Management (IIM), Calcutta and a BE from Birla Institute of Technology and Science (BITS), Pilani.
---

Aashish P Sommaiyaa, Managing Director & CEO, Motilal Oswal Asset Management Co. Ltd. | @MotilalOswalLtd
Aashish is responsible for strategizing and growing the operations of Motilal Oswal AMC as a niche focused expert equity boutique based on its unique and time tested BUY RIGHT : SIT TIGHT investment style. Starting with about Rs 1,300 crs (USD 150 mn) in 2013, Motilal Oswal AMC is today the fastest growing AMC in India managing over Rs. 12,500 crs (USD 1.9bn) of equity assets across managed accounts (DPMS), alternative investment funds (AIF), offshore funds (FPI) and domestic Mutual Funds. Amongst India's largest specialized equity investment managers and the largest provider of discretionary equity portfolio management services (PMS) to HNIs. India's one and only 100% equity AMC with a sharply articulated investment philosophy.

He has 17 years experience in senior management, process driven sales, distribution, product development and marketing of mutual funds across retail and institutional segments. He had been responsible for sales and distribution of India's largest AMC; ICICI Prudential Mutual Fund; and their PMS and Real Estate offerings through multiple distribution channels across India and Middle East. He has also led new product development, product management, communication and channel delivery over a number of years.

@AashishPS
---

Aashish Walia, Head Marketing, IndiaFirst Life Insurance
18 years in different facets of Marketing. Seasoned Marketer with proven expertise in creating loyalty programs, implementing CLCM strategy, rewards management, campaign management, branding and digital media. Strong understanding of data and analytics. Work experience across in different industries namely - Banking, Insurance, Telecom, Automotive and Retail.
---

AB Chakravarthy, Senior Investment Manager, Menterra Venture Advisors
Mr.A.B.Chakravarthy has spent 8 years in investing and incubating start-up (social) enterprises in the areas of Agriculture, Energy, Health, Livelihoods, ICT for development, Water and Sanitation. He has overseen and worked on deal sourcing, diligence and portfolio management of companies across these diverse sectors. He has also built processes & systems (Management Information Systems) to manage screen, apprise and incubate social enterprises.

With a background in farming, he has a B.Tech (Horticulture) from Tamil Nadu Agricultural University, Coimbatore and a M.Sc., (Information and Communication Technology for Agriculture and Rural Development) from Dhirubhai Ambani Institute of Information And Communication Technology (DA-IICT), Gandhinagar, Gujarat.
---

Abhay Deshpande, Founder & CEO, Martjack
Abhay Deshpande , Founder and CEO of Reasoning ,  is a serial entrepreneur who is well known in the Indian start-up circuit as the e-commerce enabler. With over 14 years of experience in the Indian e-commerce business Abhay today heads Reasoning, the company behind India's No. 1 e-commerce platform, MartJack. 
---

Abhay Pandey, Managing Director, Sequoia Capital India
Abhay is a Managing Director with Sequoia Capital India. Prior to joining Sequoia Capital, Abhay was head of Real Estate and Infrastructure investment banking at DSP Merrill Lynch where he led capital raising for the largest Indian companies in these sectors including the largest Indian initial public offering for DLF Ltd. Prior to that, Abhay worked at McKinsey & Co, in Mumbai and Johannesburg. At McKinsey, Abhay worked with a number of leading Indian corporations in the Media and Entertainment and Manufacturing sectors. Abhay received an MBA from IIM Calcutta and a B. Tech. in Computer Science and Engineering from IIT Bombay.
---

Abheek Anand, Principal, Sequoia Capital India
Abheek Anand is a Principal at Sequoia Capital India, where he helps lead early stage technology investments for the firm. Previously, Abheek was a Product Manager at Facebook in Menlo Park, where he ran several products on the ads team. Before that, he was the co-founder and CEO of Tagtile, a technology startup that was acquired by Facebook. Abheek has a B.Tech in Computer Science from IIT Delhi, an MSCS from the University of Maryland, and an MBA from Stanford University.

@abheek