Our Sponsors and Partners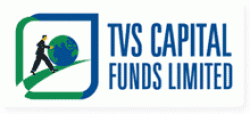 TVS Capital Funds Limited
TVS Capital Funds Limited was founded in September 2007, by Gopal Srinivasan of TVS Group, who brings over twenty five years of entrepreneurial and operational experience. TCF limited works closely with enterpreneurs with management capability and capital during the investment horizon.

TVS Capital Funds Ltd manages the TVS Shriram Growth Fund which has more than INR 1,100 Cr AUM domestic rupee fund across two Schemes - 1A and 1B. The Fund is established with a vision to develop and nurture India's mid-cap businesses into world class companies. The fund is targeting investments across consumer driven opportunities such as food & agro, retail, healthcare, education, FMCG, media & entertainment, facilities management and so on. The fund has completely deployed Fund 1A and investment in Fund 1B is going on in full swing. TVS Shriram Growth Fund is registered with SEBI under the Venture Capital Funds regulations.

The sponsors of the fund are the TVS Group and Shriram Group. TVS and Shriram Groups bring a proven business culture, infrastructure, and a wide network of relationships across several sectors and geographical regions to the nextgen entrepreneurs of India. TVS Group and Shriram Group bring a vast ecosystem of relationships and strong connections with the SME community, which are leveraged to identify attractive investment opportunities. In addition, the senior partners in their individual capacities bring many relationships in industry, the banking eco-system, and with industry, functional and domain experts amongst others. This network not only enables us to source proprietary deals, it also enables us to add value to portfolio companies.