Our Sponsors and Partners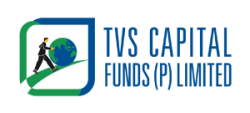 TVS Capital Funds Limited
TVS Capital Funds or TCF is one of the leading growth PE funds in India. Since its beginning in 2007, TVS Capital has been anchored on the philosophy of partnering "next-gen" entrepreneurs, their building scalable and successful businesses.

TVS Capital Funds is dedicated to backing businesses that align with India's growth story. The platform focusses on portfolio value creation by bringing in capability through its vast network of industry leaders, advisors and partners.

TCF was founded by Gopal Srinivasan, a third-generation entrepreneur of the TVS Family with a vision to provide financial and capability capital to Empower India's NextGen entrepreneurs.

The TCF team consists of an experienced investment team with deep sectoral knowledge, supported by an eclectic ecosystem that works with them in supporting entrepreneurs in building businesses. The team is currently actively investing from TCF's 3rd fund, TVS Shriram Growth Fund 3, which has commitments of ~?1,900 crore.

TVS Shriram Growth Fund 3 is backed by key domestic financial institutions, family offices and high net worth individuals, many of whom have been associated with TCF since inception. It is noteworthy to mention that entire gains generated through our investments from the Fund stay in India.