Our Sponsors and Partners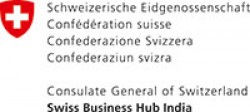 Swiss Business Hub
The Swiss Business Hub India (SBHI) is the official trade and investment arm of the Swiss federal government. The SBHI is headquartered within the the Consulate General of Switzerland in Mumbai with regional chapters within the Embassy of Switzerland in New Delhi and the Consulate General of Switzerland in Bengaluru.

The SBHI has two areas of focus, i.e.,

Advising Indian companies on investing in Switzerland: The SBHI advises Indian companies considering outbound greenfield investments in Europe in general and specifically in Switzerland. Our advisory services cover aspects relating to economic and legal environment, provisions and limitations of the different legal entities, company incorporation process, labour market and laws, cost structures, tax structures, allocating key functions such as R&D centres, trading/ sales/marketing offices, licenses/IPR structures and European/Global headquarters in Switzerland. Our focus sectors include life science (pharmaceutical, biotech and nutraceuticals), ICT, data analytics, banking and financial services, chemicals, engineering, and commodity trading.

Advising Swiss companies on India market entry strategies: The SBHI provides customised consulting services to Swiss and Liechtenstein companies. Our range of services include market analysis, industry and product analysis, compatibility tests, competiton assessment, partner searches, customer searches, distributor / supplier searches as well as legal services.