Our Sponsors and Partners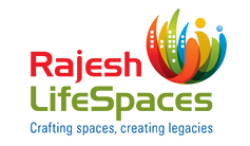 Rajesh LifeSpaces
Raghavjibhai Patel, founded Rajesh LifeSpaces and he recognized the important role that Mumbai city would play in the development of the entire country as a business hub. Over the years Rajesh LifeSpaces, has been known for diversifying its presence all over Mumbai with a varied bouquet of projects.

Today, the leadership team is proud of the fact that they are recognized for various landmarks across the length and breadth of Mumbai. Over the last five decades, they have developed a strong foothold across the city and are well-known for well-designed, high-quality and innovative 'LifeSpaces'. So far, they've delivered eight million sq. ft. of area and have crafted living spaces for over 12,000 families.

The company has developed many real estate projects, which are identified in the market for impeccable quality and sustainability. Since the initiation of the first project, they've maintained high levels of quality, which has, inevitably, earned them the invaluable trust of their customers over the years. The cornerstone of all their endeavours remains strong core values, work ethics and undivided commitment towards work.