Our Sponsors and Partners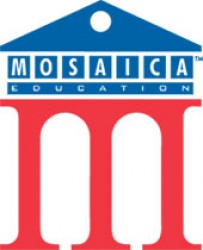 Mosaica Education
Gene Eidelman co-founded Mosaica Education in 1997, and currently serves as its President.

Mosiaca is a global educational leader that manages K-12 schools and provides educational services around the world. Mosica holds offices in the United States, United Kingdom, India and United Arab Emirates, and employs over 1800 educators and business professionals dedicated to our mission "to empower students to learn and achieve – every child, every day."

Mosaica currently manages over 90 preschool, elementary, middle and high school programs across the United States, United Kingdom, India and Mexico and serves approximately 25,000 students. Our core offering include:  school management and operations, online and blended courses, and comprehensive curriculum design and licensing.

Mosaica has been in India since 2012. It operates a K-12 Mosaica International School of Hyderabad and licenses Paragon Curriculum to Manav Rachna International School Group for 5,000 students in six schools grades K-12. Mosaica's Model is accredited by AdvancEd, the largest accreditation agency in the US. Mosaica recently developed an additional diploma program that is marketed to high school students in India and elsewhere in the world. Mosaica is planning to add five more K-12 schools in India within the next three years.