Our Sponsors and Partners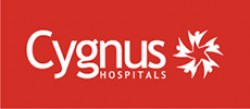 Cygnus Hospital
A group of highly skilled doctors observed that all major hospital chains has been focusing on metropolitan cities, and the district headquarters and towns in India have still remained untouched by the revolution of super specialty healthcare. In order to bridge this gap in reaching to tier-2 cities and district towns of North-India, the group in 2011, laid the foundation of Cygnus Hospitals, with the passion to bring accessible and finest quality healthcare at most affordable purchasing parity. Today, the group very proudly claim of successfully performing over 25,000 life-saving surgeries across 9 hospital locations with 5 in Haryana and 4 in Delhi, since its inception. With this success, the group now aims to expand to more geographical locations across north-India, and bringing positive changes in healthcare to 10 million lives.

In this short span of three years, Cygnus Hospitals has developed into 9 hospitals of super specialty medical excellence, with strength of 800 beds, served by 1200 strong medically skilled workforce, providing international standard healthcare to over 1 million lives in smaller communities across the country. The hallmark of Cygnus has been to save lives during medical emergencies, especially trauma. A focus to further strengthen the "Equipped for Emergency" (E4E) program is underway.

Team at Cygnus Hospitals, is dedicated to helping experience a lifetime of good health in tertiary healthcare sector. Since its founding, the team has remained on the forefront of innovation and evolving to meet the dynamic needs of patients. Even after 65 years of independence, as a country, many are unfortunate to seek tertiary healthcare services, especially emergency tertiary care like services for heart attack, or patient suffering from trauma or neurosurgical problems in tier-II cities. Residents in this part of the nation have to travel even from district places to tier-1 cities for treatment of trauma or heart attacks. Team at Cygnus studied this evolution of healthcare very closely and realized the huge need of emergency services and tertiary care and super-speciality services in district towns of north India and country as a whole.

Cygnus Hospitals commenced their operations with the intent to serve the people of district towns of North-India and have been successful in their efforts to bring world-class capability, technology and local medical talent in alleviating the burden of diseases.

When asked that what distinguishes Cygnus Dr. Dinesh Batra, CEO says "It is the compassion of our highly skilled and devoted caregivers that truly defines us. Their commitment to advancing the state of the art in medicine and approach to care has earned the trust of patients and their loved ones in nine locations across Delhi and Haryana. And I am honoured to be a part of an institution that continues to live its mission–Better Care for Better Life.–every day. As we prepare for the opportunities and challenges ahead, we will continue to make decisions based on the needs of our patients and the community".