Our Sponsors and Partners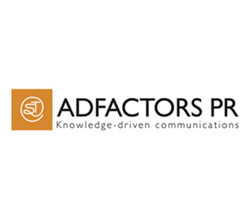 AD FACTOR
Market leader: Adfactors PR is India's largest PR firm by revenue. The Holmes Report, in its global rankings 2018, ranked us amongst the top ten Asian PR firms and among the top 75 in the world.

Multi-specialist firm: We are a multi-specialist firm. Our principal practice areas are Corporate Reputation, Financial Communications, Issues and Crisis Communications, Public Affairs and Marketing Communications. In most practices and sector verticals, the firm enjoys a market leading position. The key sectors that we serve include Banking & Financial Services, Energy & Natural Resources, Auto & Engineering, Infrastructure & Construction, IT & ITeS, Pharma & Healthcare as well as Travel, Hospitality & Leisure.

Diverse clientele: We work for over 300 retained clients including some of the most reputed Corporations and Financial Institutions, both Indian and multi-national. We also work for number of Government bodies and Public Sector undertakings. Some of our strategic clients include State Bank of India, ICICI Bank, Axis Bank, Citibank, Standard Chartered, Tata Group, Godrej Group, Mahindra Group, Larsen & Toubro, CISCO and many more.

Expertise and Experience in Financial Services: Adfactors PR has an unmatched bandwidth of senior consultants with expertise in financial services sector and capital markets. A team of over 15 senior consultants who have previously served as Editors, Bankers, Asset Managers, Financial Analysts and as marketing professionals in the BFSI sector. We work with over 75 Banks and Financial Institutions on a retained basis.

Most awarded firm in India: Adfactors PR is India's most awarded PR firm for each of the last three years. In 2016 we won every single 'Agency of the Year' award for PR firms in India. The firm was recognized as the Holmes Report Asia-Pac Financial Consultancy of the Year in 2013 and 2015. In 2015, we were also recognized as the Global Financial Communications Consultancy of the Year.

Key strengths: Our principal differentiators are domain knowledge, a sound understanding of Indian complexities, acknowledged capability in engaging media and other influencers, and a large bench of senior consultants. The firm is acknowledged for managing issues, crisis and complex media situations.

National program delivery: A truly national platform for delivering integrated communication programs right upto the farthest districts of India. We have a network of offices in 14 key states and resident representatives in all the other State capitals of India.

International capability: We have our offices in Dubai, Singapore and Sri Lanka. We work with partner firms for global campaigns in about 60 markets in the world.

New age competencies: Adfactors PR has sound capability in new age competencies like data analytics, video and rich media solutions, experiential PR & events, digital media monitoring and influencer engagement.